With the opening round of the French Enduro Championship taking place this weekend in Luc (83), Outsiders Yamaha Official Enduro Team riders Loïc Larrieu and Jamie McCanney wrapped up a hugely positive weekend claiming a total of three victories in their respective classes.
From the snow-covered trails of Finland, where the Outsiders Yamaha Official Enduro Team duo kicked off their 2017 EnduroGP World Championship campaign a couple of weeks ago, Loïc and Jamie started their participation in the French Enduro Championship on a high this weekend in south-eastern France.
Putting his familiarity of racing in hard-packed terrain to good use, WR450F mounted Larrieu secured a double victory in the Enduro 2 class of the series. As for his Enduro 1 teammate McCanney, getting his weekend off to a great start with an impressive class victory on Saturday the Manxman suffered a small technical issue on day two of the event. Unable to battle for a second consecutive victory on Sunday, Jamie made the most of his time aboard his WR250F machine in order to better prepare for this weekend's EnduroGP of Spain.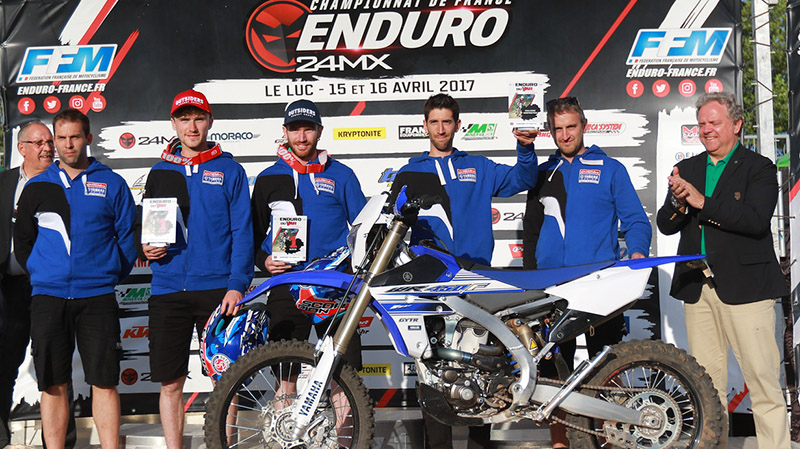 "We're really satisfied with our results from the weekend in France, but our main goal remains the world championship," confirmed Outsiders Yamaha Official Enduro Team manager Marc Bourgeois. "Following a GP that was contested under very unique condition in Finland, now it's time for us to show what we're capable of and collect as many points as possible from the championship in Spain. Using the French series as a means to gain more racing time and further improve their riding, both Loïc and Jamie showed some very impressive signs during the season opener in Luc. With all the team doing a great job, we demonstrated the abilities of our WR250F and WR450F race machines to win. As for Jamie's small mechanical issue on Sunday, it was caused by a faulty electrical connector that has been replaced in all our bikes. We're now absolutely certain such an issue will not happen again."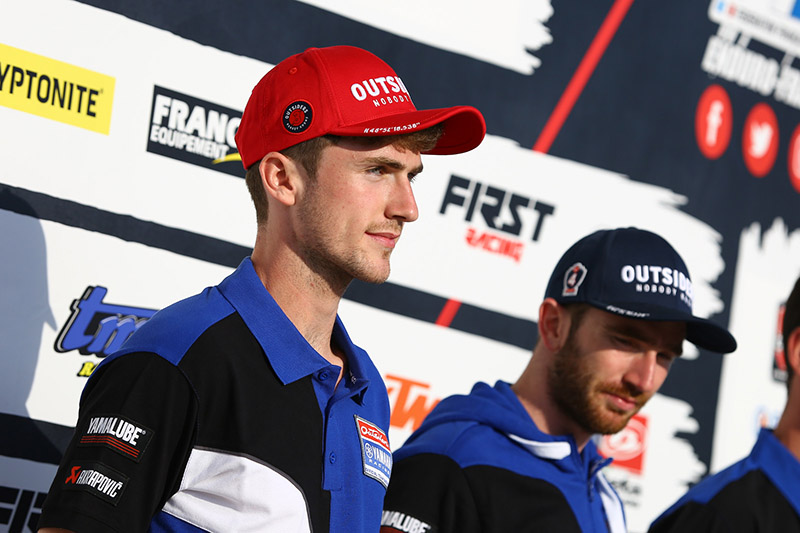 Loïc Larrieu: "We couldn't have thought of a better way to kick off the French Enduro Championship. After the cold and the snow in Finland, most riders needed time to adjust to the warm and dusty conditions but for me conditions were ideal. I really enjoyed racing my WR450F in these conditions. During the weekend, we also managed to improve our bike set-up even more by making some suspension adjustments. The timed specials were long and the event was a good preparation for the EnduroGP series. I'm really looking forward to the GP of Spain this weekend."
Jamie McCanney: "It was a great experience. It's true to say the level of competition in the French Enduro Championship is very high. To be honest I didn't know what to expect but from the very first special tests I soon realised I had to give it 100% for the win on day one. Despite not being able to finish day two I'm still satisfied with how things went during the weekend. We managed to gain some precious racing time, battling with some top-level riders. I feel great on my bike at the moment so I can't wait for the GP of Spain this weekend."
The Outsiders Yamaha Official Enduro Team return to action this weekend, with round two of the 2017 EnduroGP World Championship taking place in Puerto Lumbreras, Spain on April 21-23.
The Outsiders Yamaha Racing Team